Best Elden Ring Memes from Twitter
If it exists, there are memes about it. These are some of the best Elden Ring memes from Twitter. Almost every form of social media has memes of everything. Because of Elden Ring's popular nature, it became meme material since its launch. Actually, many memes were created even before its launch. Some of these memes feature great art and I will also link the artist's page when that's the case. I highly encourage you to check out the art too.
Radahn loves Leonard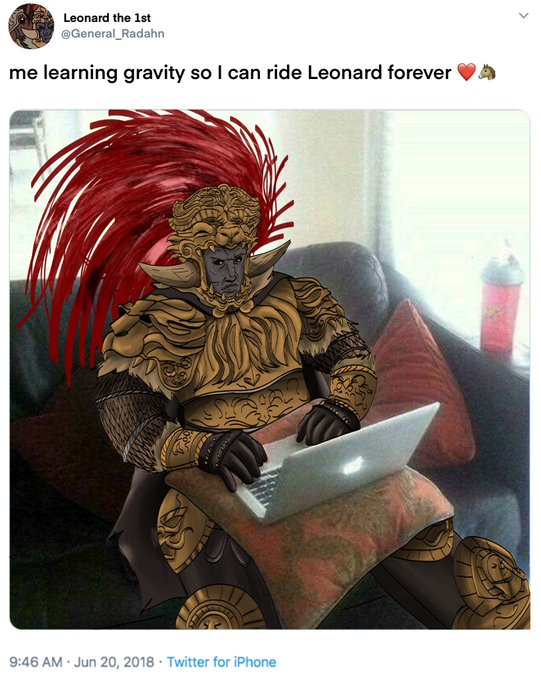 This is actually a lore-accurate meme. Leonard is Radahn's scrawny horse. The mighty General is about four times the size of the poor horse. And if this behemoth would ride him, he would be crushed. But Radahn didn't want to abandon his steed. The reason for his learning of Gravity-magic from an Alabastor Lord is to ride Leonard forever. Because of gravity magic, the immense weight of Radahn wouldn't impact Leonard. It's an instance of wholesomeness in the messed-up world of Elden Ring. But unfortunately, this tale also ended sadly…
Disclosure: Our articles may contain affiliate links. We may receive a small percentage of sales from clicks derived from affiliate links. This helps keep the servers on and pay our writers.
Link to the meme: https://twitter.com/T0ADTHIEF/status/1615395136061448192
Would you still like me if I was a Wormface?
As you probably know, Sorcerer Rogier was infected by the Death Blight. The reason for this is because of Godwyn's corpse under Castle Stormveil. There have been many players who shipped Rogier and D, the Hunter of the Dead. They weren't even romantically involved in the game and they were friends. But that's enough for a ship, right?
Anyway, when Rogier asks D if he'd love him if he was a worm, D thinks of the Wormfaces. The said wormfaces are disgusting enemies associated with the Death Blight. And D absolutely hates the Death Blight, so he says no. Because Fia is the one that's associated with Death, he goes and cries in her arms. This is actually a really good meme.
Link to the meme/art: https://twitter.com/elden_things/status/1615058579408490504/photo/1
Serosh and… Kylie Jenner?
Kylie Jenner wore the above dress to the Paris Fashion Week, and it looks similar to the Lion Serosh on Lord Godfrey's shoulder. In the game, Godfrey took Serosh upon his shoulder to suppress his blood lust and anti-social behavior. That dress is good cosplay material, to be honest.
Be wary of up
Very self-explanatory meme.
The Academy of Raya Lucaria
Hogwarts Legacy is a great-looking game set in the Harry Potter universe. In this meme, Sayori (one of the girls from Doki Doki Literature Club) implies that she prefers the Academy of Raya Lucaria to Hogwarts. Whatever your preference is, the Academy of Raya Lucaria sure resembles something out of a Harry Potter story. At least for me.